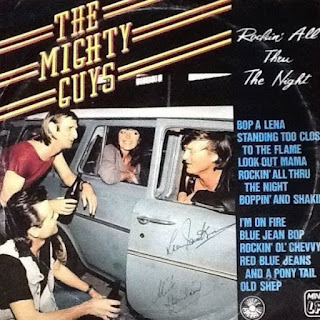 The Mighty Guys - Leon's Story Part 4
At a time when The Fonz was king, The Mighty Guys and their brand of authentic Rock 'n' Roll proved to be a winner. In 1981, they released their debut album, Rockin' All Thru The Night and it went Gold on the ARIA Album charts.
The Mighty Guys also had a mighty reputation as a live band. The line up of The Mighty Guys were Mick Hamilton (formerly of The Moods & The Vibrants) vocals and guitar, Phil Eizenberg (formerly of The Ferrets) vocals and bass, with Leon Isackson (formerly Dig Richards & the R'Jays and The Rajahs) vocals and drums.
In this episode  I continue my chat with Leon Isackson, the three previous episodes (Dig Richards & the R'Jays, Digby Richards, and The Rajahs) all feature Leon and his amazing Rock 'n' Roll journey, with this episode focusing on the career with The Mighty Guys.