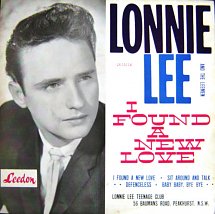 Lonnie Lee is a legend of Australian music. Together with his band The Leemen, they found chart topping success when the first wave of Rock n Roll hysteria was at its peak.
With over 60 years of living the Rock n Roll lifestyle, Lonnie has carved out a career that commands enormous respect. 
Lonnie Lee and The Leemen were the first Australian act signed to Lee Gordon's record label, Leedon...... yes, a lot of Lee's mention in that previous sentence, but rest assured what it means is Lonnie Lee is one of the creators of the Rock n Roll industry in Australia.
Thanks for Listening - please like our Facebook page - Awesome Aussie Songs